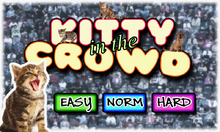 Kitty in the Crowd is a game developed and published by Scott Cawthon for Windows, iOS, and Android. It was released for Android on March 28, 2014.
Gameplay
Edit
There are 3 kinds of difficulties. (Easy, Normal, and Hard). You will use a joystick to move the screen around. There is also a hint button.
When you see a kitty, tap it. A pretty simple concept for a simple game.
App Description
Edit
Select from three difficulty settings then scan the crowd for nine kitties who could be hiding anywhere! Play again and the kitties will be in new hiding places! Fun for everyone!
Fun Facts
Edit
The cat appears in stage 3 of the Foxy.EXE minigame in FNaF World Update 2.
https://www.youtube.com/watch?v=WPCOOe4Nj9Q
https://play.google.com/store/apps/details?id=com.scottgames.kittycrowd&hl=es_41